SUSTAINABLE
AND
RESPONSIBLE
TOURISM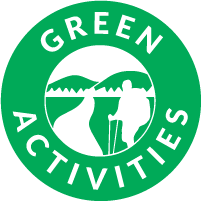 First Ser­ticica­te gran­ted 25.03.2022
New Ser­ti­fica­te gran­ted 31.03.2023
We love our snowy win­ters and the beau­ti­ful sur­roun­ding natu­re exact­ly as it is right now. We want to take res­pon­si­bi­li­ty for buil­ding a cli­ma­te-friend­ly socie­ty through our own actions and the first big steps have now been taken. Erä-Susi is com­mit­ted to rai­sing the envi­ron­men­tal awa­re­ness of its emplo­yees and cus­to­mers, impro­ving the efficiency of ener­gy and water use, and reducing the envi­ron­men­tal impact of its operations.
The Green acti­vi­ties cer­ti­fica­te is based on the envi­ron­men­tal cri­te­ria desig­ned for the pro­gram ser­vices industry and we are com­mit­ted to complying and repor­ting about it.
We want to rai­se the most impor­tant cri­te­ria for us per­so­nal­ly — the wel­fa­re of tou­rism ani­mals. Ani­mal wel­fa­re and our dogs hap­pi­ness are the most impor­tant things in our com­pa­ny. You can read more about our dogs here.