Erä-Susi Huskies Autumn 2023 — Enjoy the autumn colours in Ruka!
We have autumn acti­vi­ties for all ages — check out our autumn program!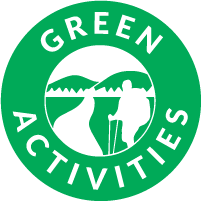 Sustainable Tourism
Erä-Susi Hus­kies is now Green Acti­vi­ties cer­ti­fied com­pa­ny! Green acti­vi­ties is an eco-label for out­door ser­vice pro­vi­ders in tra­vel and it's awar­ded to com­pa­nies that ful­fil a list of envi­ron­men­tal requi­re­ments. Obtai­ning Green Acti­vi­ties demon­stra­tes the com­pa­ny's efforts to deve­lo­pe envi­ron­men­tal­ly friend­ly, sus­tai­nable and res­pon­sible services.
Unforgettable experiences in Rukatunturi!
Erä-Susi Huskies
Erä-Susi is an expe­rienced and res­bon­sible hus­ky safa­ri orga­nizer from Kuusa­mo, which has pro­vi­ded its cus­to­mers with unfor­get­table expe­riences since 1998. The diver­se ran­ge of acti­vi­ties we offer inclu­des both hus­ky sled­ding and visits to our domes­tic ani­mal farm.
The acti­vi­ties we offer vary by the sea­son. In win­ter cus­to­mers get to hop aboard a hus­ky sled and during sum­mer and autumn you can go hiking with the hus­kies or ride with them. We want to deve­lop the farm and our cus­to­mer ser­vice to be even bet­ter and to pro­vi­de even more memo­rable expe­riences to our customers.
Our main principle when wor­king with dogs and other ani­mals is that their well-being comes always first.
Abso­lu­te­ly amazing expe­rience. The staff were great, very infor­ma­ti­ve, know­led­geable and calm/patient. The Hus­kies were love­ly and well trai­ned. We felt safe. The trail was abso­lu­te­ly stun­ning. We all had a fan­tas­tic time and would defi­ni­te­ly recom­mend it and go back next time.
Ivy­Hy­de
Fan­tas­tic!! Super gui­de, beau­ti­ful dogs and a love­ly 10 km trip through both forest and more open spaces. We felt safe and hap­py all the way. Abso­lu­te­ly good value for money. I can strongly recom­mend a visit. I can't wait to go back, hope­ful­ly next year!
Char­lot­te